It's mid-November so it can only mean one thing… It's time to start unveiling the televisual feast of our consumerist times – the Christmas adverts!
This year's offering is different.  It's not quite as merry and bright.
But it is greener…
This year we're dreaming of a greener Christmas
The controversial Christmas advert from frozen food shop, Iceland, has been banned for being "too political" for TV.
Iceland chose to promote their Christmas campaign pledge to remove palm oil from its own-label products by creating their Christmas advert from a version of the Greenpeace animation "Rang-tan".
The advert tells the story of an orangutan whose home has been destroyed by palm oil producers. It highlights the horrific impact of palm oil on the destruction of rainforests and wildlife, which at the current level of deforestation causes us to lose a 25 orangutans every single day (as well as reducing other endangered species like tigers, elephants and rhinos).
The message is a powerful and effective one, delivered in a heart-warming way – which you can see for yourself here.
In spite of the TV broadcasting ban, it's great to see how the advert has gone viral.
Celebrities like TV presenter James Corden sharing the ad on Twitter have helped it achieve over 15 million views online. And over 700,000 people have signed a petition calling for it to be "released".
The commercial story about the "ban" and subsequent far-reaching exposure of the advert online seem to be the overriding narrative at the moment.
The real issue is palm oil
It's important that we don't lost sight of the real issue around how bad palm oil is for the environment and what we can do, as consumers, to avoid using it.
Palm oil everywhere!
Like GMO corn and soy, palm oil is produced on a massive scale – estimated at 50 million tons a year (about 30% of all vegetable oil).
It has oozed its way into almost everything we use too. This single ingredient is contained in many of our favourite foods and household products – from cleaning and beauty products like detergents, lipsticks and shampoos to food, like cookies, bread chocolate and margarine.
It's frightening to learn that so many of the processed, packaged products that most of us use daily contain palm oil. But when you consider the damage it's doing to the environment and the fact that most of those products are bad for our health anyway, it makes sense for us to be more mindful about what we're consuming.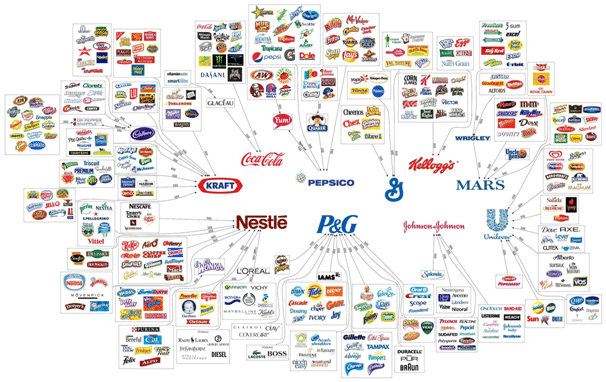 Finding palm oil
It would be great to avoid buying products with palm oil in them. The problem is that it hides behind a myriad of different names. Many companies hide palm oil in the ingredients by writing vegetable oil, but more often than not, it is a mixture of oils that contain palm.
Some products that use palm oil aren't always clearly labelled. It can appear under a number of names, including:
INGREDIENTS: Vegetable Oil, Vegetable Fat, Palm Kernel, Palm Kernel Oil, Palm Fruit Oil, Palmate, Palmitate, Palmolein, Glyceryl, Stearate, Stearic Acid, Elaeis Guineensis, Palmitic Acid, Palm Stearine, Palmitoyl Oxostearamide, Palmitoyl Tetrapeptide-3, Sodium Laureth Sulfate, Sodium Lauryl Sulfate, Sodium Kernelate, Sodium Palm Kernelate, Sodium Lauryl Lactylate/Sulphate, Hyrated Palm Glycerides, Etyl Palmitate, Octyl Palmitate, Palmityl Alcohol