It all started with an idea…
Back in February our newest volunteer, Agne, emailed to confirm that she had bought the two hay bales the group had talked about over lunch at the last permablitz garden work party.
Agne had mentioned that she'd read an article about growing pumpkin out of hay bales and wanted to give it a try in a bare patch of the forest garden plot.
She emailed me saying that when she could next get over to the garden in March she would begin putting down layers of newspapers against the weeds, then manure, then up to a foot of hay, 5 cm of compost and finish it with a layer of straw or woodchip.
And so the experiment began
The next thing I knew, I had a new email from Agne with the picture on the right to show me the new mulch bed at the bottom of the forest garden plot.
You can see Agne's pumpkin, courgette and chard seedlings sitting proudly as they were beginning to take root in the new patch too.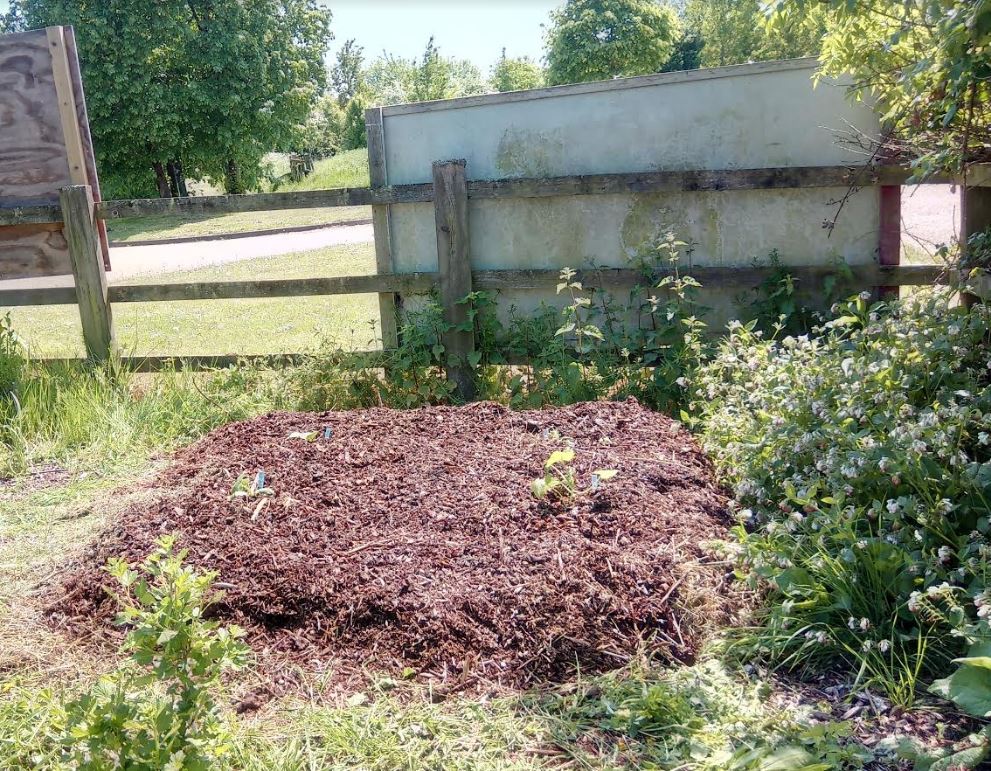 Every good story has a set back!
Who would've thought we'd have bad frosts in early May? Well, looking back, it may have been the hottest May on record but you will recall it started with some really harsh frosts.
We were too optimistic about the weather and Jack Frost took out the young pumpkin and courgette seedlings, leaving only the chard clinging on.
Agne wrote to me with her unhappy update, but like every good protagonist she was intent on taking charge of her story, and wasn't going to be deterred…
If at first you don't succeed…
Agne's next update was about the new plants she'd established to replace the last ones and reinforcements she'd created for frost protection.
As you can see from the picture, she wasn't taking any chances this time! Each plant had it's own DIY cloche to protect it from the elements for a while.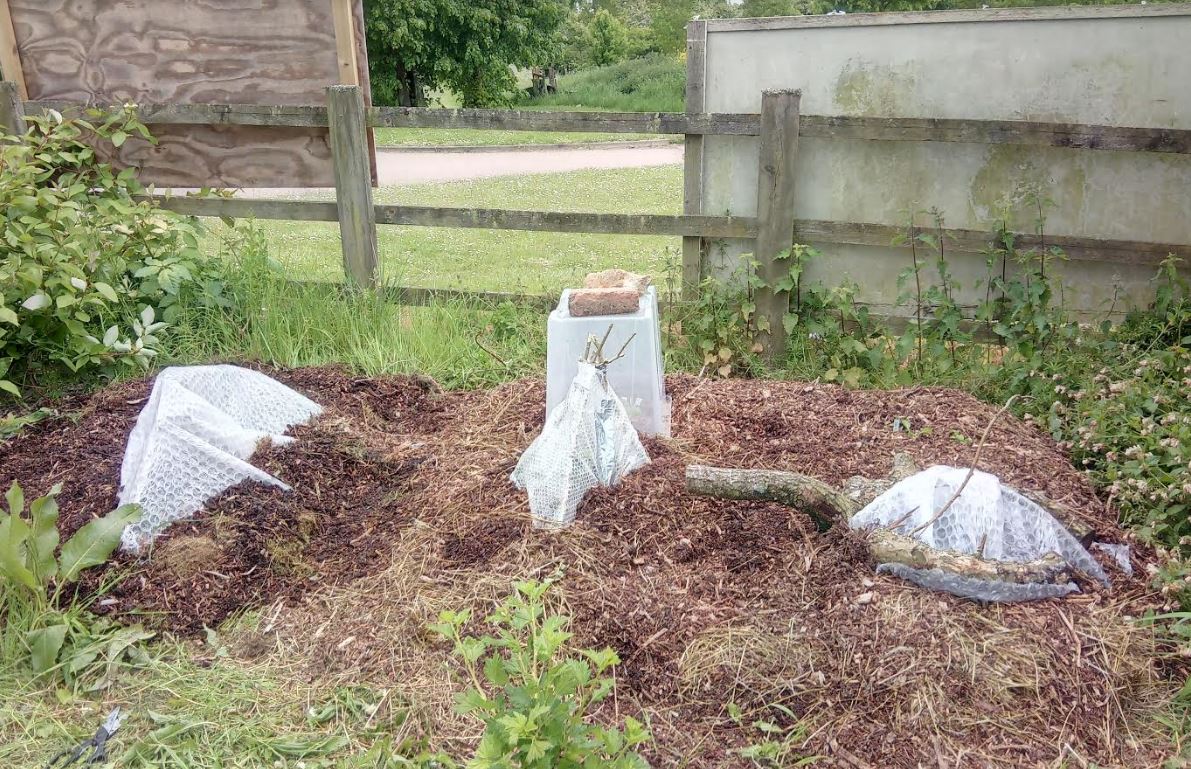 A mindful exercise
Agne messaged to say she had lots of time and energy going spare and that she would like to do some gardening on the plot to help clear her mind.
She mentioned that the forest garden looked like it could use some weeding and possibly a new layer of woodchip…
Our amazing volunteers have been helping to keep the weeds at bay since lockdown rules relaxed a little, but Agne was volunteering to seriously step things up a gear.
And when she sent this picture accompanying her message, it became clear that this wasn't just a bit of mindful weeding but more a full-blown project that was going to require lots of time, patience and a heroic level of effort!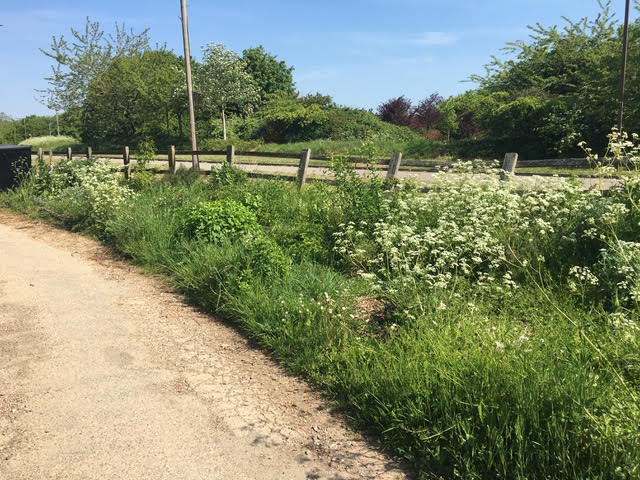 Keeping active, working with nature
I'm not sure how much of a cleansing experience it was to do all the activity Agne did on the plot to tackle the weeds and establish a sheet mulch across the deepest part of the garden, but just looking at it, I can imagine the sense of satisfaction she felt at the achievement!
I remember it taking our volunteer group a number of dedicated permablitz garden work parties to make this kind of impact on the forest garden. Agne has done this almost single-handledly!!!
And it was done with good conscience too, as not only were some of the weeds left to flower for the pollinators to make the most of them, but Agne also managed to make nettle manure (fertilizer) and use some of them for edible purposes too.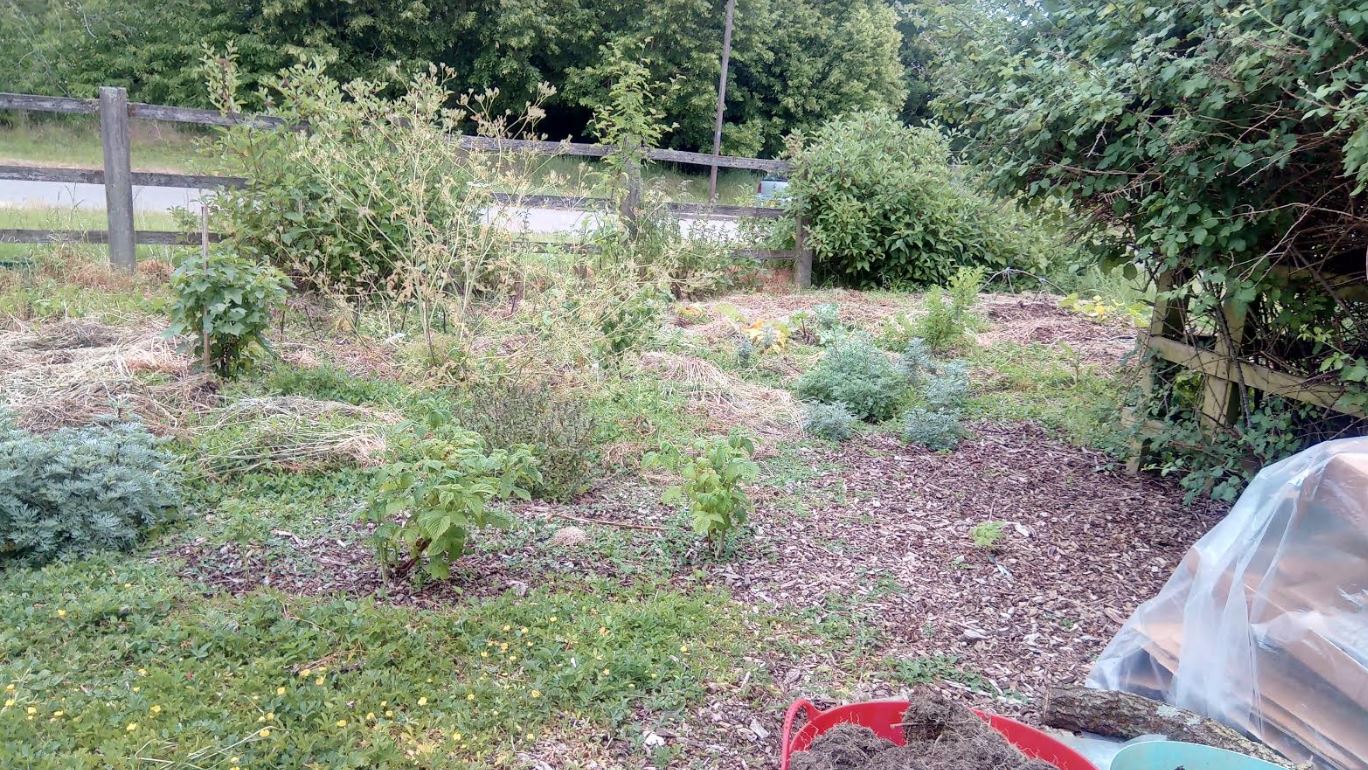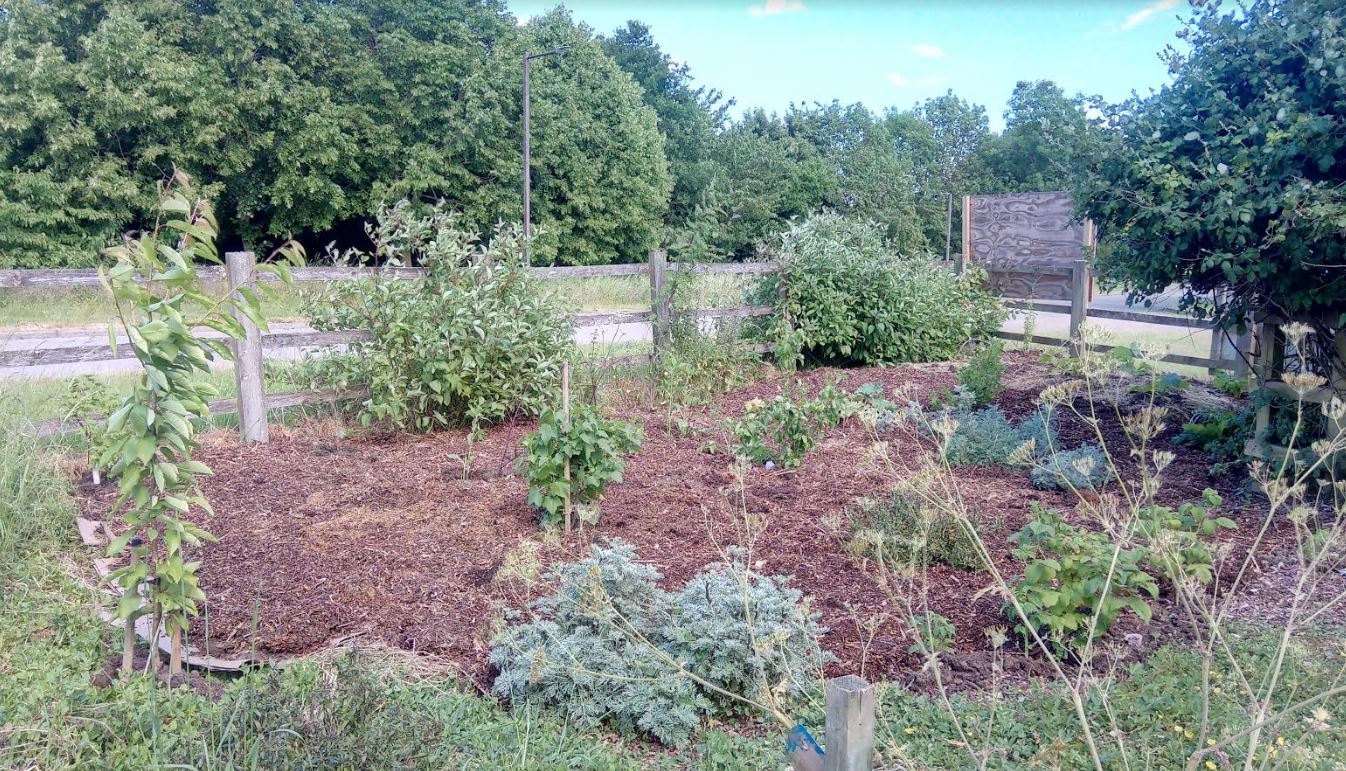 Uncovering a hidden larder
We're not against weeds by any stretch. After all, we go by the old "permie" gardener's adage that "a weed is a plant in the wrong place". Ours just needed some containing to reign them in from strangling some of our productive plants.
Our fruit trees, berry bushes, herbs and beneficial plants and veg have a fighting chance of producing a good yield of produce this summer.
We can already see the fruits of our volunteers' labour coming to bear already – as these latest June pictures of the gooseberry, whitecurrant, redcurrant, and blackcurrant bushes and Agne's pumpkin, courgette and chard experiment patch show 🙂
The nettle fertilizer should be ready soon too (after allowing 3 – 4 weeks for it to get to being a really smelly, nitrogen-rich manure). Agne mentioned that she'll be using it diluted with water 1:10 or 1:20 for leaves, so we should see plant growth, colours, flavours and textures all benefit from its application later as well.
And so…
All that remains is to say a HUGE THANK YOU to Agne and to all our dedicated volunteers just like her.
Not only has the efforts of our volunteers transformed the forest garden over the lockdown period, but it's been done with amazing enthusiasm and determination to tackle it in small steps, and all off their own bat.
It is our volunteer group that make our beautiful forest garden what it is, and this wonderful community of friends, such a treasure.
It will be fantastic to finally get outside to enjoy it together again – even if only in acceptably socially distanced ways for the time being.
If you would like to be involved in our community garden at Westbury Arts Centre, please sign-up to our mailing list to be kept informed about our latest news and upcoming events. 
Our garden work parties ("permablitzes") will soon be back in the Events Diary for our volunteers to return to working together on garden tasks for a few hours before we sit down and have a social lunch. 
We're just in the process of finalising the social distancing rules with the Centre, so look out for news of us making these events a regular (limited capacity) thing over the summer. If you want to be on the first invitee list, or have any suggestions for when and how we do our future volunteer events like this, then please email info@plantingup.co.uk
The lockdown has meant that we're a bit behind with jobs like weeding, making compost and building up our soil in the forest garden, so if you would like to pop by in your own time, as Agne has been doing, please knock on the front door to introduce yourself to the Care-Taker Manager, Frances, or you can arrange a time by emailing: info@plantingup.co.uk
Look forward to seeing you in the garden again soon!