You're never further than 6ft away from a rat in the city, or so the over-inflated urban myth goes. Although 160ft may be a little more accurate a distance, the thought that our garden and allotment compost heaps can attract rats, often puts a lot of people off composting.
The thing is, by not composting, you're missing out on a source of natural fertilizer for your garden that is completely FREE and:
Enriches your garden's soil in a way that helps retain moisture, suppress plant diseases and reduces the need for chemical fertilizers
Encourages the production of beneficial bacteria and fungi that break down organic matter to create rich nutrient-filled material ("humus") that naturally fertilizes your plants for long-term healthier growth
Not to mention that by NOT throwing out your compost waste with your general rubbish, you're also helping to reduce methane emissions (a potent greenhouse gas) from landfill and to lower your carbon footprint.
It Couldn't be Easier to Make Your Own Compost
Organic food scraps and garden waste currently make up 20 to 30 percent of what we throw away, and can easily be composted instead.
Your compost pile should have alternate layers of the following three types of organic material ingredients:
brown materials (like dead leaves, straw, twigs and woodchippings) that provide carbon for your compost,
green materials (like fruit and veg scraps, grass clippings and fresh plants) that provide nitrogen,
water for moisture to help break down the organic matter.
See our composting infographic for more about what you should and shouldn't compost.
Outdoor Composting
It's easy to create your own compost heap in your garden. All you need to do is:
Select a dry, shady spot near a water source for your compost pile or bin.
Add brown and green materials as they are collected, making sure larger pieces are chopped or shredded.
Moisten dry materials as they are added.
Once your compost pile is established, mix grass clippings and green waste into the pile and bury fruit and vegetable waste under 10 inches of compost material.
Optional: Cover top of compost with a tarp to keep it moist.
When the material at the bottom is dark and rich in colour, your compost is ready to use. This usually takes anywhere between two months to two years depending on how well you manage it and are actively composting.
Tips for Avoiding Rats in Your Compost
In general, rats are shy and looking for two basic things: food and shelter. Keeping your compost heap actively composting (with the correct mix of greens, browns and water) is a good deterrent to rats in itself. After all, a well-kept compost heap, visited regularly, will be less attractive to them because you'll be disturbing them and maintaining a moist, uninviting space.
Here are a few other tips for keeping rats away from your compost…
Don't position your bin next to a fence or hedge, which gives rats unseen access – leave a gap around it.
Don't compost cooked food, meat or dairy.
Plant mint near your compost heap. Mice and rats are reputed to hate the scent of mint, so if you plant a few mint plants close to your compost pile, it may be enough to deter them.
It is possible to stand a compost bin on a hard surface, or line the bottom with narrow-gauge metal mesh to prevent animals getting underneath your bin. A tight-fitting lid also stops them getting in at the top.
Try digging in your organic food waste. If you do this in your heap/bin you should cover it up with a couple of inches of grass clippings or leaves that you've set aside as a layer to top any food scraps.
Alternative Solutions for Composting
Usually, rats are drawn to compost piles because they are on the lookout for food. That's why adding meat or dairy or cooked food in general is a bad idea. They're a sure fire way to attract rodents.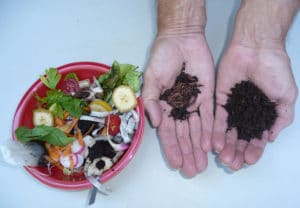 Here are some alternative ideas to regular composting in the garden where you forego adding food waste to your compost pile completely but still produce your own compost:
Bury your food scraps directly in the soil by digging compost trenches to put it in that gets covered over with soil.
You can buy or make compost bins (like tumblers) that are sealed and kept off the ground for a clean solution. You don't employ worms to break down the matter as efficiently with this method of composting, but it is a quick way of creating a useful mulch from your organic kitchen and garden waste.
Use Bokashi to deal with your kitchen waste where you layer our scraps (veggie and fruit, along with meat and dairy) with a Bokashi innoculant into a special bin to ferment for a couple of weeks before you add the fermented contents to your outdoor compost pile where it breaks down quickly and rats won't even consider touching!
Try worm-assisted composting or "vermicomposting" by doing your composting in a wormery; a self-contained system normally the size of a small dustbin where you put your organic waste for the worms to break down into compost.
For more information book your place at our Summer Social event taking place on 5 August 2018, where we'll have a guest speaker talking about secrets to gardening success and our Master Composter will be showing us how to make our own, home-made wormery at Westbury Arts Centre, Shenley Wood, Milton Keynes.