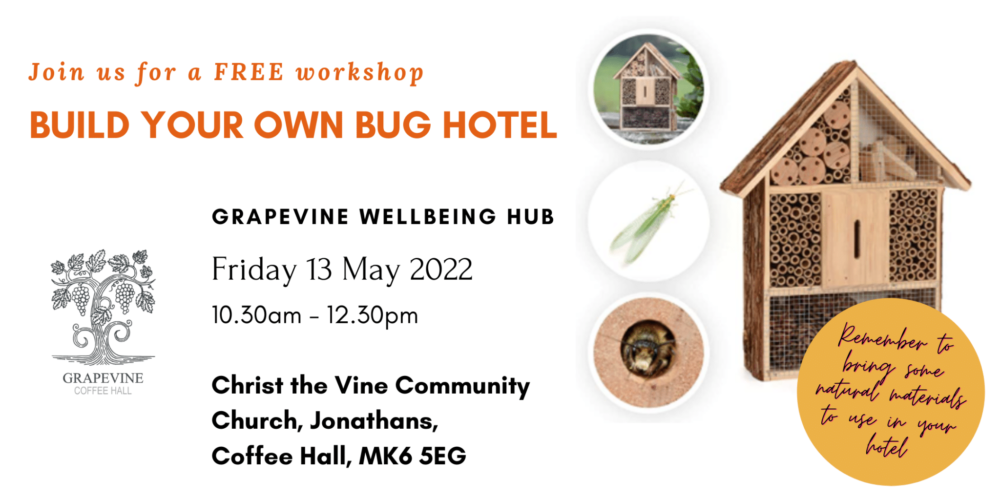 Grapevine Coffee Hall Workshop: How To Build Your Own Bug Hotel
Come along to our FREE workshop to discover how to make your own natural insect/ bug hotel.
Hosted in our community garden, we will guide you through building your own bug hotel for you to create a safe hideaway for insects that will be beneficial to your garden or allotment.
Materials foraged and hand-crafted will be used, where we will provide you with everything you need to craft your bug hotel, but please do bring some of your own natural materials (like pine cones, bamboo canes, and twigs) to support what is available in the workshop.
What we'll do in the workshop
Our woodwork experts will construct the structure of the hotel. Then, following some guidance on the types of habitat different insects like, you will be able to select from different natural materials to create the compartments that fill your hotel frame.
Some background on bug hotels
Bug hotels provide a safe place for insects to hibernate and lay their eggs.
Solitary bees and wasps as well as insects like lacewings and ladybirds benefit from the warm sheltered place a bug hotel provides for them to hide throughout the winter; which are great to have to help keep the numbers of aphids down in your garden.
Reserve your place
We have 20 places available on a 'first come, first served' basis. Please register to reserve your place.
Our event is completely FREE to attend to make it as accessible as possible to everyone but any donations given on the day to help us cover our workshop expenses and costs of materials will be gratefully received.
All are welcome and hot drinks and snacks will be available from our on-site café from 10am – 1pm.
What to bring
Your own gloves

Natural materials like pine cones, twigs and bamboo canes
Location
This workshop will be hosted at Grapevine Coffee Hall, our Wellbeing Hub project at Christ the Vine Community Church, open to all every Friday from 10am – 1pm for crafts, gardening, music/signing and café.