In late September, after welcoming Rakesh Rootsman Rak of Roots'n'Permaculture to do a couple of talks to introduce Forest Gardens to our community* where he visited our projects (and nibbled on our garden as shown in the pic above), a few of our group went on to participate on his paid courses.
We attended an intensive weekend of learning about Forest Garden Design in-person with Rakesh at a beautiful venue near Ampthill, Bedfordshire, and Kirsty went on to complete the 8-week practical online design course that followed to bring back the added design resources.
Suffice to say, we have a lot more knowledge to throw at our garden now. And our insightful time with Rakesh has made us look at our so-called "forest garden" with fresh eyes.
Just as we intended, we now have a long list of things we have been inspired to do to progress our plot at Westbury Arts Centre from a "permaculture garden" to a productive "food forest".
And in true permaculture spirit, we thought we'd share that with you…
Visualising the concept of a food forest
Rakesh took us through this visualisation exercise, which we all found an engaging way to understand what we're trying to achieve with forest garden design by appreciating it in context with nature.
The visualisation runs from 3:32 – 10:18 but continue watching to go through the breakdown of what it all means…
Steps to Improve Our Garden and Take It From Being an Edible Landscape to a Productive Food Forest
Light is key
Looking at the orientation of our garden plot, the entrance nearest to the main road in south, and the narrower end (near the bins) is north. Due to the shading effect that larger trees can have, our large plants should be towards the northern end with the smaller ones towards the south.
The bramble at the end of the plot is producing a lot of shade. Cut it right back for best results.
Tree sizes and spacing matters
We need to know the rootstock of our fruit trees, as that dictates the size they can grow to, which in turn will tell us how much space we need to allow between them (based on their expected canopy radius).
We will definitely need to move the cherry tree as it is planted too close to the plum tree.
Consider the automatic nutrient cycles
We need to be mindful of how our forest garden plants are feeding the soil and each other because when we design our food forest we should be thinking about creating "closed loop systems".
For example, some of our plants will need watering if the weather is really dry because there is not enough ground cover and nutrient generation.
We could also consider making our own biochar and doing nutrient calculations to see if we need to be adding more nitrogen-fixing plants to help improve our fruit yields.
Bindweed is an exception to the "chop and drop" rule
Because bindweed is so invasive, where even the tiniest amount of root left in the soil can take hold, rather than pulling off the top and letting it rot down on the ground, we need to remove it completely, including the roots.
Bindweed should not be composted either, but should be put in the green waste bin for council collection, or otherwise put somewhere we don't mind it growing.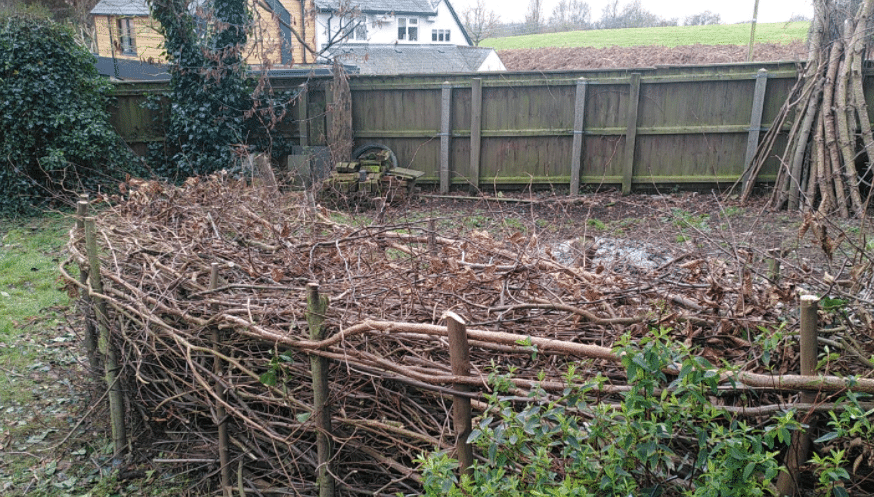 Create a path around the garden
As part of our garden design plan, we will need to create clear woodchip paths. These can play several functions, including:
Protecting areas outside the paths
Creating zones in the garden, where the path defines them, leads people to them, and allows those zones to be designed for different uses that volunteers can be allocated to manage
To help transfer nutrients around the garden via the organic paths the woodchip provides
Use nitrogen-fixing shrubs for windbreaks
To replace the broken fence, on the road-side of it, we could consider creating a natural hedging defence using evergreen Eleaeagnus (and possibly shrubs like hawthorn, blackthorn, rowan, and wax myrtle) maintained to be no higher than 1.5 metres to act as a windbreak and to reduce transmission of pollutants from the road/passing traffic.
*Sorry to anyone who wanted to view the video recordings of the two talks that Rakesh did with us at Westbury Arts Centre and Grapevine Coffee Hall. I won't go into the details of exactly what happened but unfortunately they got wiped from my phone before I could upload them! 
You can find lots of Rakesh's talks on his Roots'n'Permaculture YouTube channel here: https://www.youtube.com/c/RootsnPermaculture
And the following books proved excellent resources on our courses too: