Patricia made us these crispy yet chewy tasty biscuit treats the morning of one of our Garden Work Parties in January, which made for the perfect little energising snack for a winter's day gardening; especially with them still being warm when we stopped to try them.
It's hard to believe they are vegan cookies because they taste so "buttery". My only problem with them on the day was that they were so more-ish I'm not sure I worked off the calories! 😋
So many of us asked Patricia for the recipe that we just had to post it here to share further.
Here's her extract from The Guardian, with the summary below to make it easier to read.
Ingredients
180g wholegrain spelt flour
50g rolled porridge oats
1 tsp baking powder
½ tsp bicarbonate of soda
½ tsp flaky sea salt, crumbled
100g currants
2 tsp chai or mixed spice
50g dark brown soft sugar
100g golden syrup
120ml cold-pressed rapeseed oil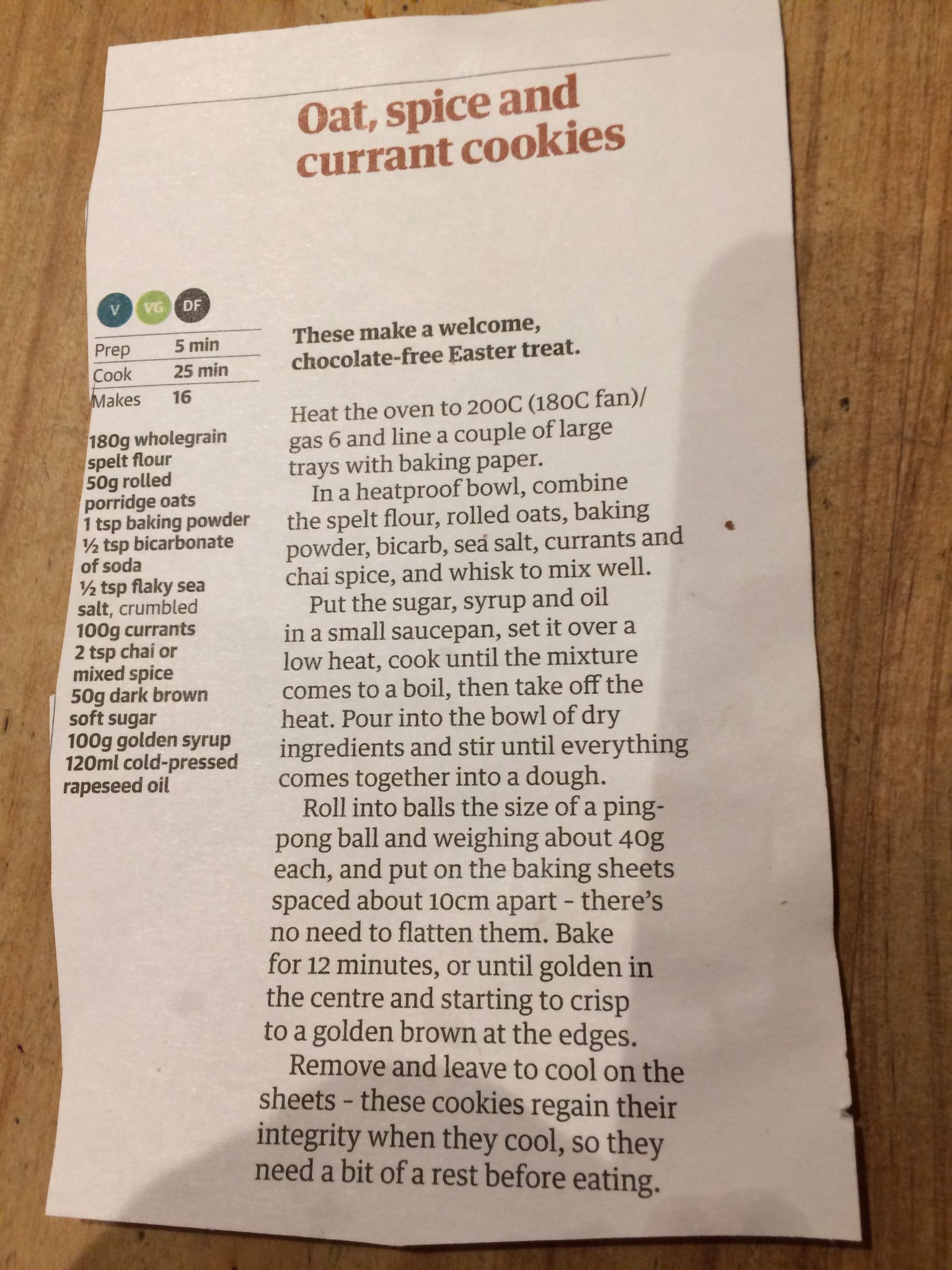 Prep 5 min
Cook 25 min
Makes 16 biscuits
Method
Heat the oven to 200C (180C fan)/390F/gas 6 and line a couple of large trays with baking paper.
In a heatproof bowl, combine the spelt flour, rolled oats, baking powder, bicarb, sea salt, currants and chai spice, and whisk to mix well.
Put the sugar, syrup and oil in a small saucepan, set it over a low heat, cook until the mixture comes to a boil, then take off the heat. Pour into the bowl of dry ingredients and stir with a wooden spoon until everything comes together into a dough.
Roll into balls the size of a ping-pong ball and weighing about 40g each, and place on the baking sheets spaced about 10cm apart – there's no need to flatten them. Bake for 12 minutes, or until golden in the centre and starting to crisp to a golden brown at the edges.
Remove and leave to cool on the sheets – these cookies regain their integrity when they cool, so they need a bit of a rest before eating.