Food forests are a relatively new farming concept in the UK, but they have been used for thousands of years in other parts of the world to work with nature.
Also known as a forest garden, the diverse planting of edible plants is designed to mimic the ecosystems found in nature but using productive species to produce food for us.
As can be seen in the featured image and the video here, each of the different layers of the food forest can not only produce food for our consumption, but also provide food and habitat for wildlife.
No chemical pesticides or fertilisers are required in a food forest because the entire ecosystem supports itself; regenerating to keep growing, producing food, and giving a habitat for predators that feed on the insect "pests".
Grow Your Own Food
Just like a forest, having a diversity of plants, animals, and fungi in perfect balance is a a naturally-managed ecosystem to produce food sustainably, with minimum input for maximum output.
Once a forest garden becomes established it is self-regulating and doesn't need to be replanted year after year.
It is more resilient than growing annuals, which makes it an easy-to-maintain food resource for people, as well as a beautiful, wildlife-rich, and abundant garden for growing your own food.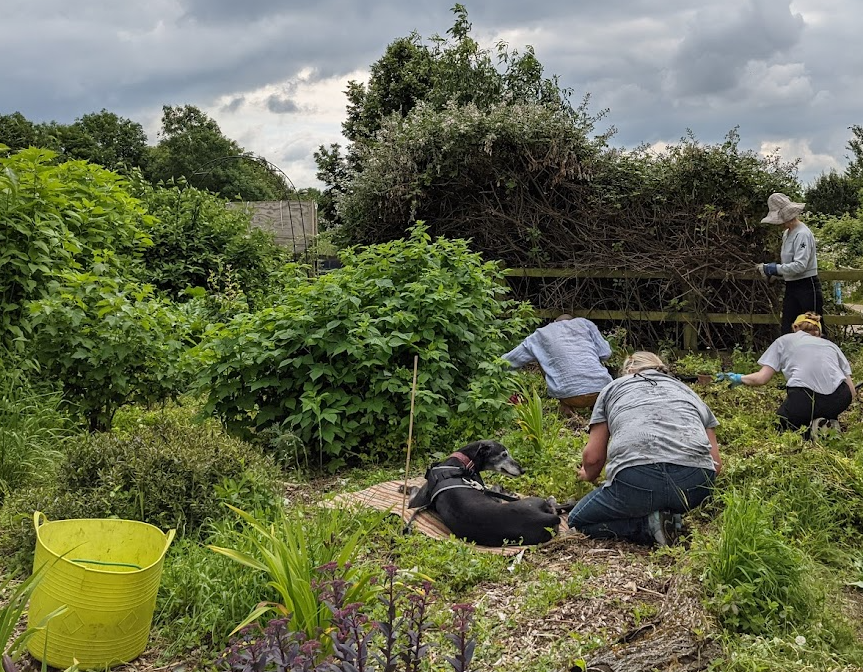 The Rise of Community Garden Food Forests
The rise of community food forests correlates with larger changes in social consciousness and greater appreciation of the importance of local food production and access.
Green space that provides healthy and fresh food to people and important environmental and wellbeing services to communities are some of the most compelling benefits of food forests.
Planting Up MK public spaces & gardens
Reclaiming sovereignty over food production using environmentally sound systems (like permaculture techniques) is central to our community food forest projects.
It's important to us that community gardens are designed with perennial and annual plants that produce food and herbal medicine, enhance nutrition, promote food literacy, and provide a useful and safe place to gather, co-create, and work together, whilst also getting people actively engaged in building the places they want to live in and to voice their opinion through community action.
Join Our September Events to Learn More
We will be in the food forest community garden at Westbury Arts Centre on 11 & 12 September as part of the Milton Keynes Heritage Open Days programme. Drop by to join in our activities and talk to use about growing our own food and what we can all do to support the new National Food Strategy recommendations for creating a fairer and more sustainable food system in the UK.
We are also excited to have permaculture designer and Forest Garden specialist, Rakesh "Rootsman Raks", joining us as a guest speaker for an in-person event at Westbury Arts Centre on Thursday 23 September. His event will complement the Forest Garden Design course he is running locally that weekend, where he will be visiting us to talk about how anyone can create a low maintenance food forest in any size garden.