When Katie brought her chickpea scones (still warm from the oven that morning) to a garden work party bring & share lunch, we just couldn't get enough of them. Like so many of the vegan recipes we've tried, we were amazed at how buttery they tasted.
Here's the "biscuit" recipe that inspired Katie's take on them. We hope you enjoy these luscious little (vegan, gluten-free, grain-free) protein parcels as much as we did!
Ingredients
Serves: 6 biscuits
1/2 cup (118 mL) nondairy milk
1 teaspoon white or cider vinegar
1 and 1/4 cups (150 g) chickpea flour
1 and 1/2 teaspoons baking powder
1/4 teaspoon baking soda
1/4 teaspoon salt
3 tablespoons (45 mL) oil of choice (I used olive oil)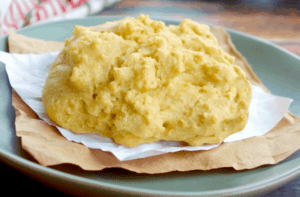 Instructions
Preheat oven to 425F (210C). Line a baking sheet with parchment paper.
In a small cup or bowl, combine the milk and vinegar. Let stand at least 2 minutes.
In a medium bowl, whisk together the flour, baking powder, baking soda, and salt. Stir in the milk mixture and olive oil until blended.
Immediately drop 6 equal portion of dough onto prepared baking sheet, spacing at least 2 inches apart.
Bake in the preheated oven for 10 to 13 minutes until puffed and golden brown at the edges.
Serve warm or cool completely.
Notes
Storage: Store the cooled biscuits in an airtight container at room temperature for 2 days, the refrigerator for 5 days or the freezer for 3 months.
Chickpea Flour Drop Biscuit Variations
The Power Hungry website gives lots of variations on the recipe to show how versatile it is for adapting these biccies to savoury and sweet variations.
Here's what it said:
Fresh or dried herbs (e.g., rosemary, parsley, thyme, herbes de Provence)
Cheese (nondairy, or some nutritional yeast for cheez-y flavor)
Seeds (e.g., sesame, poppy, hemp, or an assortment + dried minced onion & garlic for an "everything" biscuit)
Flaked coconut (stir some in & sprinkle some on top for toasted coconut bliss)
Spices + sweetness (e.g., cinnamon sugar, cardamom, ginger, pumpkin pie spice)