Angus is the Master of Desserts at our garden work party bring & share lunches. Just like this recipe shows, he always keeps it simple, and guarantees natural flavours that pack a really tasty punch.
These vegan chocolately bites of goodness proved the perfect end to our lunch to give us an energy boost that soon got us back to working in the garden again!
Ingredients
Serves: 18 snacks
100g pitted medjool dates
100g pecan nuts
50g pumpkin seeds
50g rolled oats
4 tbsp cacao powder or unsweetened cocoa
2 heaped tbsp almond butter
zest and juice 1 orange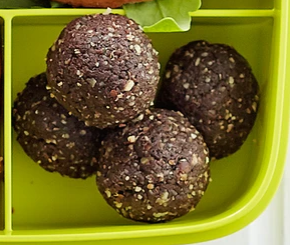 Instructions
Place all the ingredients and 3 tbsp orange juice in a food processor.
Blitz until chopped and starting to clump together.
If it's a bit dry, add a drop more orange juice.
Roll the mixture into walnut-sized balls with lightly oiled hands.
Pop 2 or 3 into a lunchbox for a snack. Keeps in a sealed container for 2 weeks in the fridge.